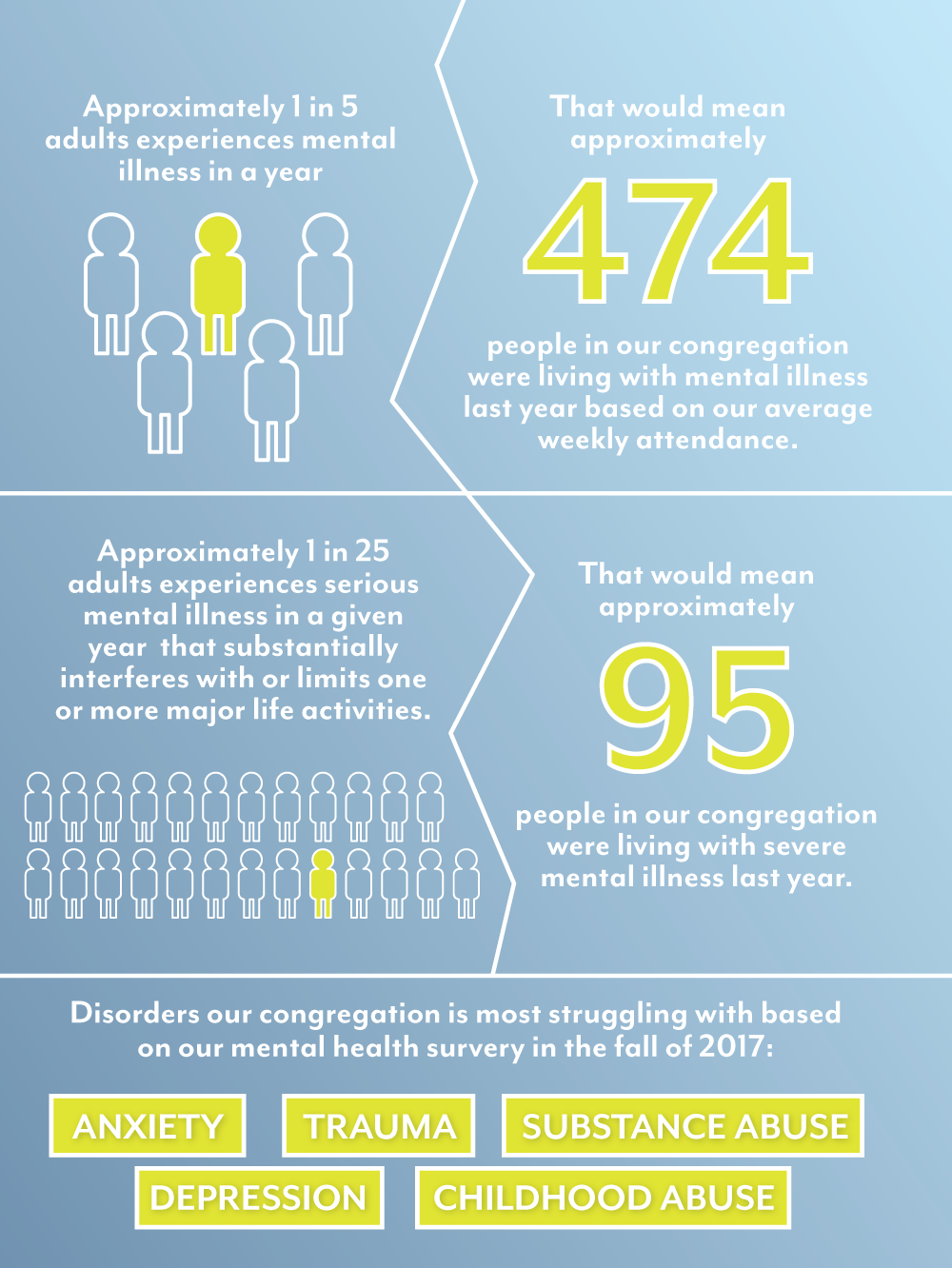 We live in stress-ridden, crazy-paced, often-overwhelming time. That the National Alliance for Mental Illness (NAMI) reports that 1 in 5 adults experiences mental illness in the space of a year is not surprising. That the church is uniquely situated to address the problem might be surprising to some. But it's the truth.
Out of a desire to create effective ministry, to meet people in our congregation and community at the point of greatest need, Pastor of Care and Community, Holly Wilson, along with other members of our church who work in mental health care, Dr. Dave Katerndahl, Kathy Fitzsimmons, and Rev. Steve Welch, developed a Mental Health Survey for our congregation in the fall of 2017. The hope was to learn those issues with which our families, and by proxy, our community's families, were most often dealing.
When only seven percent of the survey respondents reported no concerns or mental disorders, the team realized that the need was greater than they had imagined and got to work developing a plan to provide help and resources for our church body. The top disorders that were identified by the people who took the survey were anxiety, depression, childhood abuse (emotional, physical and sexual), substance abuse (alcohol and drugs), and trauma. For licensed counselor Steve Welch, the prevalence of anxiety in our congregation was concerning: "I'm hoping we can address this issue in a significant manner, integrating the Christ-centered mission of the church with the clinical nature of the issue we are addressing." For Dr. Katerndahl, the level of traumatic disorders was surprising, "with over 50% reporting a childhood abuse experience and almost 20% screening positive for Post-Traumatic Stress Disorder (PTSD)."
From these results, the team of four decided they needed to grow, and so recruited therapists and other mental health professionals from our church to create and implement a program for our congregation. Beginning in August with a sermon series called Made in the Image, our pastors will explore the Design for our bodies and lives, the ways this Design sometimes gets Detoured, and then will conclude with a sermon entitled, Destination, underscoring the fact that God moves in and through and with us, always, when we are whole and well, and especially, when we are not. After the sermon series, the Mental Health Alliance Team will then "Start the Conversation" around specific conditions on Wednesday nights beginning on August 29. In October, members of the Mental Health Alliance Team will begin facilitating focused conversations, with faith, hope and prayer as the centerpiece, for people who are experiencing mental illness.
Pastor Holly has two hopes for this massive effort: "First, I want people to have the willingness to be honest with God and at least one other person. There is so much freedom in honesty. Second, I want our church to be a place for people to tell the truth, a place for us to safely share our stories. I want a culture that values grace over shame, where people seek relief so that they can then lean into the pain, because when people lean into the cross, healing can then happen."