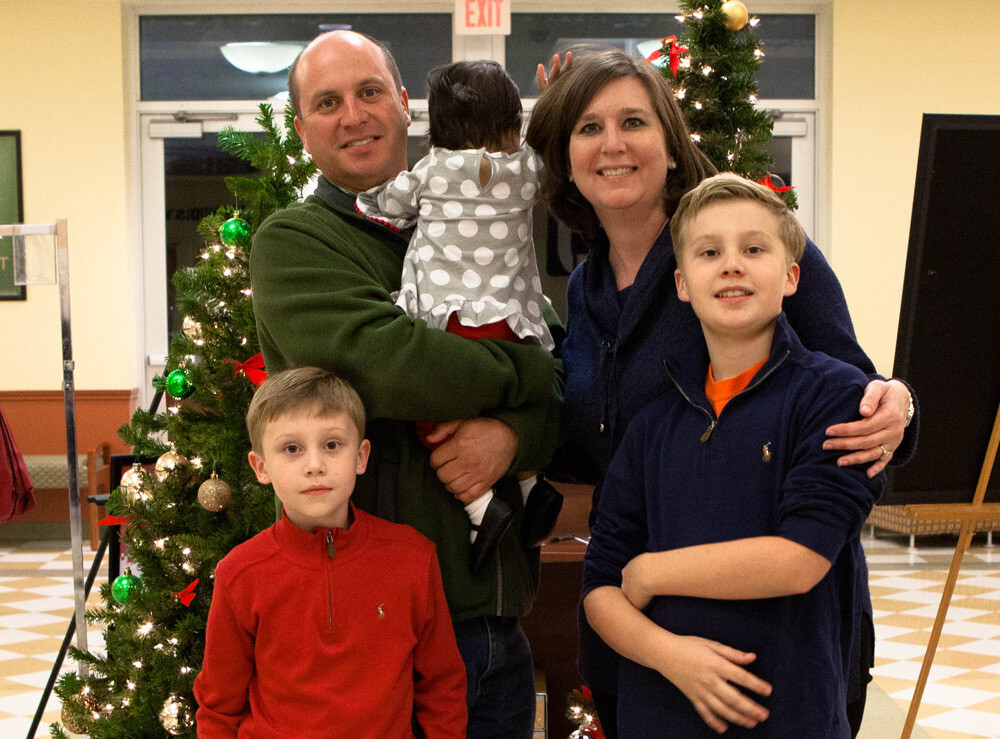 Paige and Billy Gonzalez had always thought they might adopt one day, but it was their older son, Will, who first initiated the desire to adopt out of the foster system. Will had made a friend who had been adopted through the system, and the family saw first hand the impact they could have on a child's life in this way. When they heard their younger son, James, pray "for a little sister we can love with our whole hearts," they knew the time was right. The boys continued to pray for a little sister, and Paige and Billy began the lengthy process to become a foster care family.
They began taking fostering classes in January of 2017. Next came the application to foster: visits from the Fire Marshall and the Health Department, finger printing and background checks, a host of paperwork, and finally a home study and interview, all led to their application for a license to foster being submitted in early April.
And then things happened quickly. On the morning of April 21st, Paige received the call that they were licensed and approved to be foster parents. Later that same day, they received another phone call: there was a baby girl who needed placement immediately. They had been warned to be leery of late Friday placements. They had been given a list of questions to ask when they received a placement call and before they said 'yes.' They had hardly been approved for one hot second. But Paige says that none of that even mattered in that moment. There was a baby girl who needed her. The answer had to be yes.
Paige says she didn't know that you could love a stranger's child the minute they show up on your doorstep, "but you can."
April 21, 2017 also happened to be Will's eleventh birthday, and when the boys got home from school that day and were told that a baby girl would be arriving soon, Will exclaimed that he had gotten his birthday wish! The boys waited on the corner for her to arrive, and when she did, they met her at the car. Paige says she didn't know that you could love a stranger's child the minute they show up on your doorstep, "but you can."
And then the Gonzalez family began to experience love in all kinds of new ways. "We started this journey by saying, 'we can love a child.' But we've received quadruple the love in return—from our church family, from complete strangers, and certainly from 'Little Bit'," Paige explained.
The same weekend that Little Bit arrived, folks from our church, many of whom were at the time strangers to Paige and Billy, showed up with food, crib sheets, diapers, notes, and prayer. On Sunday, Pastor Holly led the congregation in prayer for the Gonzalez family and the little one in their care. The church had recently begun a Foster and Adoption ministry, and that Sunday school class gathered round this family in love and support.
Paige says she has been overwhelmed with the love her family and this baby have received.
Paige says she has been overwhelmed with the love her family and this baby have received. "People who don't know us are praying for us. People stop us and ask about Little Bit and then ask to pray right then and there. A client of my dad's prays often for her—he's never met her. I've been honored to be a witness to the church being the church."
They celebrated Little Bit's first birthday a few weeks ago. Will wrote her a birthday card that told her how much he loves her. James, as usual, kept her laughing the whole day. And then the tough questions came. The boys asked if she was their sister. Did they get to keep her? Paige and Billy know that the goal of foster care is always family reunification, and so the truest answer is "I hope so, but we can love someone else, too." Paige says that their constant prayer is that everyone who is working on Little Bit's case is working for the best for her.
Becoming a fostering family has opened the Gonzalez's eyes to the brokenhearted and downtrodden in a new way: "Not everyone is called to foster or adopt, but we are all called to do God's work in whatever ways He equips us. Like our pastors say, 'we are responsible for what happens in the shadow of our steeple.'" Billy puts it like this: "I'm over forty, and I haven't done much good to change the world, but I can change her world."
For more information about becoming a part of the Foster and Adoption Ministry, either because you are interested in fostering or adoption, or because you would like to support those who do with food, time or other necessities, please contact Sarah Reiter, Director of Care and Community, .