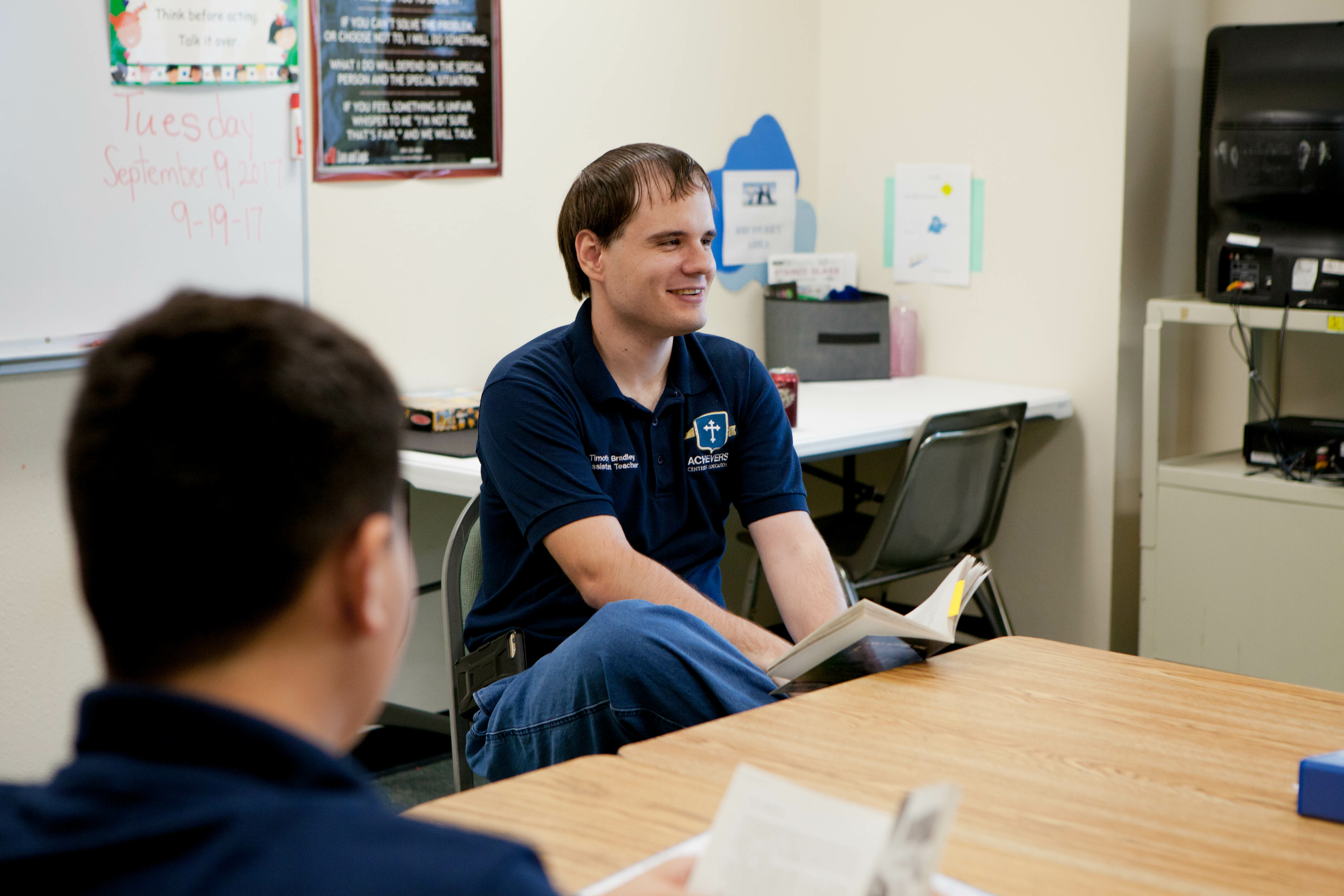 It would be really easy to spend time at University United Methodist Church and not realize all of the special things that happen here. After all, it's a big campus, with lots of ministries, and many amazing people whose hearts desire to do good work for the Living God. Tucked away on the second floor of the McCreless Building is one such special ministry, quietly doing truly wonderful work with students each week day of the school year. Achievers Center for Education (ACE) is a school whose mission is to educate a diverse group of students who are functioning two or more grade levels below age-level. They provide a safe, nurturing environment and give attention to the social, intellectual, physical, spiritual, and emotional development of their students, and one only needs to meet some of their students to see that the work they do day-in and day-out is making a Kingdom difference.
I sat down with Tim Bradley, a graduate of ACE and an employee of University, to talk with him about the school, our church and what life looks like several years beyond his graduation. What I learned is that Tim is one remarkable young man who is incredibly proud of his school and really thankful for this church.
From the first moment he visited, Tim knew it was the right place for him.
A baptized member of University, Tim spent his childhood Sundays in what is now the CAM (Christian Assistance Ministries) building, going to Sunday school and learning the stories of our faith. At 14, when another private school was not working out so well, Tim learned that ACE was just starting at University. From the first moment he visited, Tim knew it was the right place for him. At ACE, Tim found a "safe haven, where kids understand you and want to be friends." His Tourette's seemed to matter less there, and the school felt more like a family than anything else.
While Tim has much to say about the important role that Achievers played in his life, one aspect stands out--it is through ACE that he learned to have a relationship with the Lord. While he had learned that God loved him at church, it was through chapel and daily interactions with Christian teachers that he understood that God is with him wherever he goes and how to walk with Him each day.
For Tim, the best part of his day at ACE was the time he spent in "OJT"—On the Job Training. At Tim's request, he worked with James Snell, the Maintenance Director for the church. Tim enjoyed all that he learned during his time with James—from plumbing to electrical to HVAC—Tim gained knowledge that he knew would be useful beyond high school. In James, Tim found a willing mentor, and the two got along so well that Tim volunteered on the maintenance staff for the last two summers of high school.
The other passion Tim found as a senior at ACE was working with the younger students, tutoring and encouraging them in their studies. In fact, he enjoyed this time so much that as graduation approached, Tim asked the principal if he could continue as a teaching assistant for ACE post graduation. Encouraged by her response, he applied, interviewed and got a part-time job in this capacity. To this day, Tim helps teach PE and works with students who need one-to-one support in their studies. Tim feels like he has a unique perspective as a member of the ACE staff—he is closer in age to the students, and as a former student, can communicate and empathize with his students in a way that perhaps other teachers can't.
His time with James Snell also led to a job on the maintenance staff at University, where his friendliness and self-sufficiency has earned him high praise. Tim spends his days working and serving in these two different ministry areas, helping others through both.
"I learned that I had worth, potential and a future."
When asked what makes ACE so special, Tim doesn't hesitate: "I learned that I had worth, potential and a future. Before ACE, I was so unsure of myself and emotionally insecure. At ACE, I learned emotional and mental fortitude. I learned that I'm like anyone else. I have my struggles. I have my strengths. I just have to apply them in a certain way and I can succeed. If not for ACE, I would be a different person."