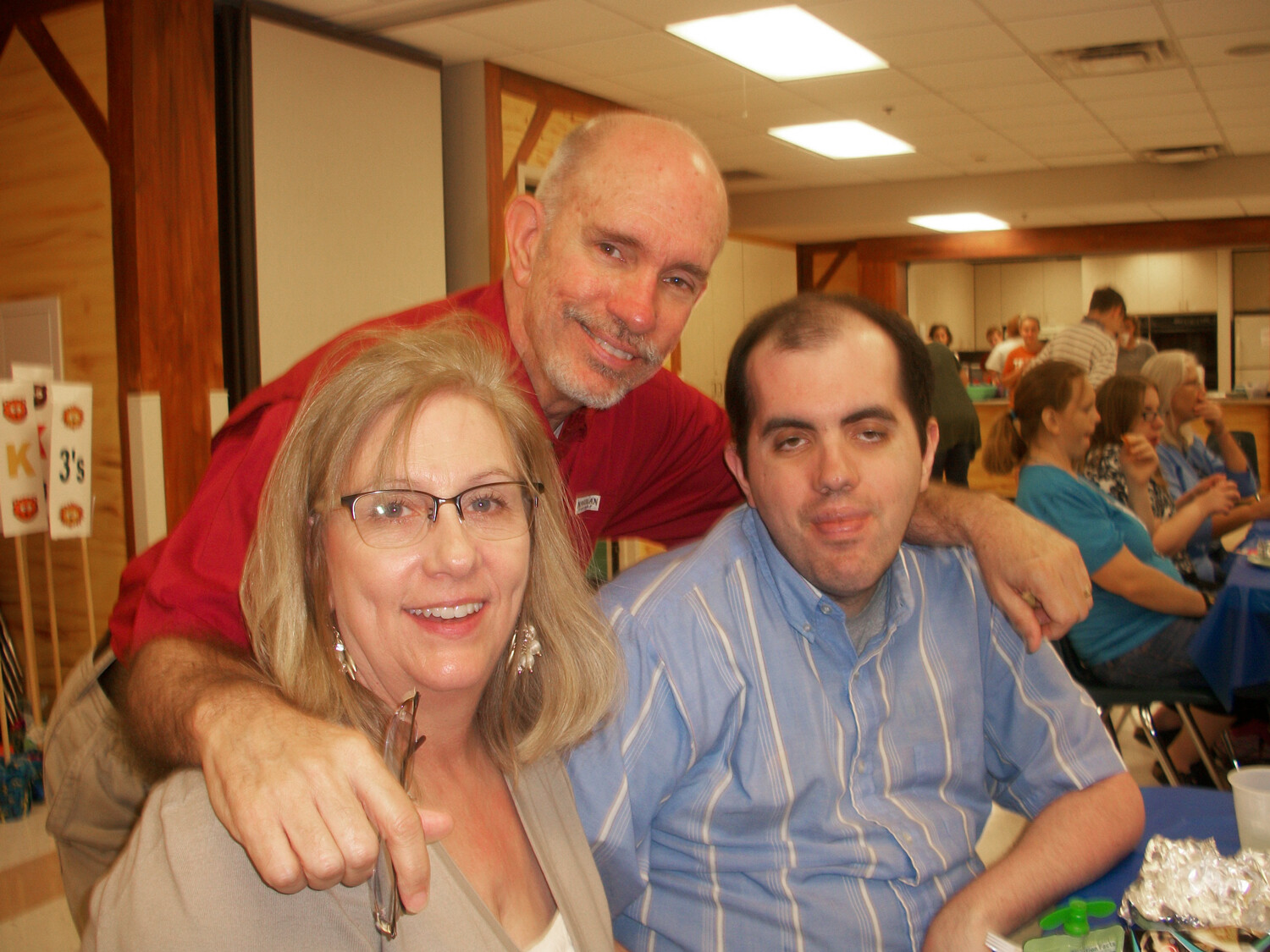 By the age of 25, Zach Thompson had accomplished much. An Eagle Scout, graduate of MacArthur High School, and former member of the U.S. Special Olympics basketball team that once traveled to compete in China, Zach was living a full life and found daily purpose in a variety of roles. Middle brother of three boys and son to Bonnie and Chris Thompson, Zach enjoyed time spent with his family. As a participant in Helping Hands, the Special Needs Day Hab housed at University, Zach served his beloved church while spending time with friends. His basketball team, S.A. Fire, went to the Special Olympics state basketball tournament every year. And every Sunday and Thursday you could find him in the McCreless Gym, worshipping in Believer's Garden and playing bingo now and then, as part of the outreach of the Special Needs Ministry here at University. And somehow, Zach still found time to work part-time at H.E.B.
Amidst all of this activity, Zach began experiencing some stomach aches, and at a routine test to determine the cause of his indigestion, Zach's heart began racing and he was taken to the emergency room. He was diagnosed with Atrial Fibrillation (rapid heartbeat) and sent to a doctor who specializes in the electrical issues of the heart. At the young age of 25, Zach had a pacemaker put in his heart to help regulate his heart rate.
Between the pacemaker and a handful of pills each day, Zach successfully continued living his very full life for another five years until one night he woke his dad with complaints of chest pain. A small clot in his lungs had caused a mild heart attack. The pacemaker was no longer enough; Zach's heart was enlarged and inefficient and he was not quite 30. It just didn't make sense.
What does one do when a full life has a failing heart?
At the suggestion of his neurologist, Zach and his parents sought the council of a geneticist, and through genetic testing, they learned that Zach has Myotonic Dystrophy, a muscle-wasting disease that affects many systems in the body. Suddenly, so many seemingly disparate symptoms—from early-onset hair loss to IBS to delayed cognitive function to cardiac inefficiency—all of these and more of the issues that Zach had been facing could be traced to this one root cause. At 30, Zach and his parents had answers, but with those answers came more questions. What does one do when a full life has a failing heart?
In October of 2016, after an upgraded pacemaker did not make enough difference, Zach and his parents sought the help of Dr. Michael Kwan and his "Heart Failure Team"—a name that Chris says gave him cause for concern: "it sounded like [the doctors] were giving up." But when they met Dr. Kwan, that fear changed to hope: "He was kind and truly interested in Zach. And even though he said that a heart transplant would be Zach's best option, and that was incredibly scary, he told us that a new heart could buy Zach another 30 years."
Even with this new hope, things would get worse before they got better. About this same time, a heart valve, that 30 years before, Chris had been told would one day need to be replaced, began failing, and Chris faced a heart surgery of his own.
Zach was put on the heart transplant list, new therapies were extending the life of his heart, and yet, his health continued to decline. He was exhausted all of the time. Chris and Bonnie watched in despair as Zach was no longer able to play basketball and participate fully in his daily activities. The Thompson family was living through a dark time and trying to believe that there was a future hope.
A year after meeting Dr. Kwan, on October 12, 2017, Zach's family got the call they had been waiting for: there was a heart for Zach. On the morning of Oct. 13, with a mix of fear and excitement, Zach was taken into the operating room to receive his new heart. And now, about six weeks post-op, Zach is doing well and following doctor's orders as he heals. Zach says he "is looking forward to seeing [his] friends at church again.
Zach is fully aware that in order to be given this new chance at life, an incredibly selfless donor lost his, and Zach and his family have been praying for that donor and his family since he was put on the transplant list. When he renewed his state I.D. a few weeks ago, Zach chose to be listed as a donor as well.
When asked how he has seen God at work in Zach's life, Chris says, "God has been in all of this—all of the people who love him, who have been a part of his life, even in the circumstances that were hard. " Chris talks about Zach's scoutmaster who was willing to work with a boy with special needs and how that man was a true servant of God and not surprisingly, now has a second career as a pastor. Chris also noted one of Zach's mentors, a Vietnam veteran who taught Zach about independence and helped him get his first job. And more recently, Chris recalls when Brian Rouche, Assistant Director of the Special Needs Ministry, came to the hospital and watched Monday night wrestling, a favorite of Zach's, with him, and how that was another example of the love of Christ in Zach's life. Chris can see that even his own heart surgery was laying the foundation for Zach's ability to understand the recovery process that he is now living through.
"...it gives my son an opportunity to thrive."
"The way that Zach has been supported and accepted at University, the way that Believer's Garden and Helping Hands has been a bright spot in Zach's life, providing opportunities for worship, small group Bible study, community service, socialization—it gives my son an opportunity to thrive."
And now there is great hope that with his new heart, Zach will truly thrive for many more years to come.