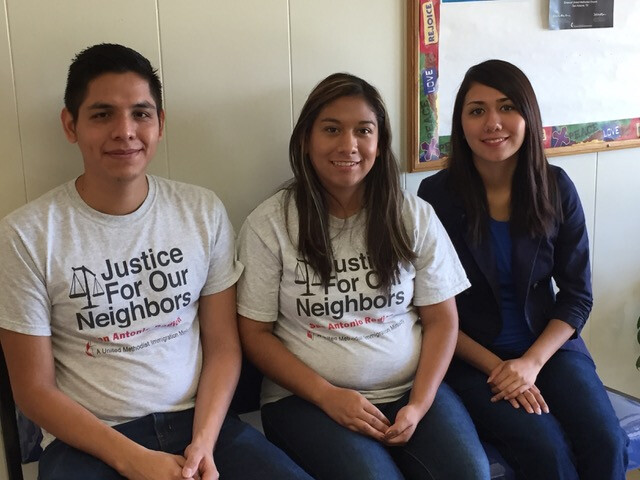 When I asked Juan Castro, Lead Staff Attorney for San Antonio Region Justice for Our Neighbors (SARJFON), why he chose the incredibly difficult work he does every day, he replied with a smile, "You are about to get a preacher's son's answer. Everyday we do our best to spread God's love through our work with immigrants and refugees. We can trace the history of the immigrant, of the refugee, through the pages of the Old and New Testaments." And then Castro proceeded to give me a Bible history lesson, from Abraham to Joseph to Moses to Daniel to Ruth and Naomi to Jesus and the Apostles, he tracked the history of God's people, God's often-nomadic, often-exiled, often-fleeing-for-their-lives, people. "And everyday, we get to share the gospel and God of love and hope with the modern day equivalent of these Biblical predecessors."
Castro is the lead immigration attorney for SARJFON, a faith-driven ministry of the United Methodist Church, welcoming immigrants into our churches and communities by providing affordable, high-quality immigration services, engaging in advocacy for immigrant rights, and offering education to communities of faith and to the public. It's a noble cause and a difficult one, particularly recently. I sat down with Attorney Castro to better understand the immigration conundrum, and what I learned is that there is so very much to learn.
To help me understand, Castro told me stories. There was the father he met in the Pearsall Immigration Detention Center not long ago, whose wife and 4 kids were all citizens. The primary breadwinner, this father told Castro of his worry for his family, about his kids growing up without their father, of what would happen to them if no one was providing for them—school grades dropping, identity crises, the inevitability of welfare. And while the risk of deportation is real, there are legal channels to pursue because his wife is a citizen. But there is no guarantee.
There were happy stories about folks who work for up to 10 years to become successfully naturalized citizens. I learned that the first step is becoming a legal resident, what was once referred to as a 'green card.' Essentially, a legal resident pays taxes, has some rights and spends 3-5 years earning the right to apply for citizenship. The application, though, is just the next step. There is an interview and an oral exam, for which the student must learn the answers to 100 questions about our national history and government and respond in English. SARJFON has a 100% success rate in helping legal residents become naturalized citizens.
I heard stories about the uncertain future of the young people who fall under the Deferred Action for Childhood Arrivals (DACA) Act. SARJFON has been able to help some of them transition to citizenship through other avenues.
I learned that the most consistent help that SARJFON offers is through their monthly clinics, where Castro and his staff, along with some faithful volunteers, go out into the community, usually a church, and meet with those who have questions about their legal status. The people—most often from Latin/Central America—who come to these clinics are often scared and unsure, and they identify church as a safe place, a trustworthy place. That's why it has been so key for SARJFON to be located on the north side of University's campus. We are a safe place.
As we were talking about the people who are so much more real to him than to those of us who experience immigration through the news anchors in our living rooms, Castro reminded me, "You know, we don't choose where we are born." Castro knows this well. His parents were immigrants from Honduras, and his family first came to America because his grandparents were called to pastor a church in New Orleans. They became citizens, but most of Castro's dad's family still lives in Honduras, and he grew up visiting, seeing, understanding the difference between these two worlds. "Life is better here. I want to give back. I want to help people live here—legally and fully."
To know more about the work of SARJFON, visit their website: https://www.sarjfon.org/about_us. To know more about how to get involved alongside other United Methodist ministries during the current immigration crisis, visit https://riotexas.org/immigrationresponse.