Students
Welcome to University Students – a ministry for middle and high school students and their families. Student ministry exists to create spaces for students to experience authenticity, spiritual growth, and development of the Christian life and glorify God in all we do.
To stay up to date on all things Student Ministry, you can:
Get our weekly email (click the "Sign up to receive our weekly email button", to begin receiving it)
Follow us on Instagram (@UniversitySM)
Ask to join our private Facebook page (search University Students)
Sunday Morning
Students can be found milling around the Rock Café, eating a donut (or two) and tacos, sipping on coffee, playing pop-a-shot, air hockey, and lots of laughing. At 9:30am, we transition into the Student Worship Center for our version of Sunday School. We play a game or two and learn more about who God is and who we were created to be.
This year we will be spending the fall semester learning about our spiritual ancestors from the Old and New Testaments. All are invited to join us, drop in any time!
Sunday Morning Rally for Students (6th-12th Grades)
Where: Student Worship Center
When: Sundays | 9:30-10:30am
Contact: Rev. Sarah Dennis;
Resemble Groups
Community is at the core of what we do as Christians. Resemble groups are small groups by grade and gender where students can get to know each other, share their lives, support each other and practice seeing and naming where God is working in their lives. Each group is led by adult volunteers who are committed to creating an authentic community and deeply care about the lives of students. Students are invited to join their grade and gender group at any time they can.
Resemble Groups
Our Resemble Groups meet on Sundays at various times. For a listing of the available Resemble Groups and more information, please click here. Please email Rev. Sarah Dennis with questions.
Wednesday Night Live
Wednesday Night Live is our middle-of-the-week touchpoint for food, fun, community, worship, and more. Wednesday Night Dinners are available for the entire family anytime between 4:30-6:30pm on the South Campus. Students 6-12th grade are invited to join us on North Campus beginning at 5:30 for open gym time. Worship begins at 6:30pm where our student worship band leads us in song and we hear a message each week before having some small group time to talk and check in on the week.
This semester we will be starting a series on misunderstood scripture, characters, and faith. We can't wait to see you there.
Wednesday Night Live for Students (6th-12th Grade)
Where: North Campus Gym and Student Worship Center
When: Wednesdays | 5:30pm - Open Gym, 6:30-8pm - Worship and Small Groups
Contact: Rev. Sarah Dennis;
Student Music
There are many ways your student can get involved in the music ministries at University. For more information about choir, handbells, orchestra and the student worship band visit our music ministry pages.
Student Ministry Staff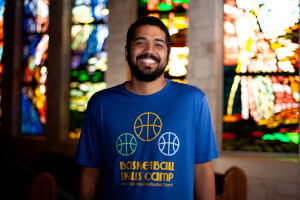 Albert Aguilar
Asst. Director of Student Ministry (High School focus)
E-Mail: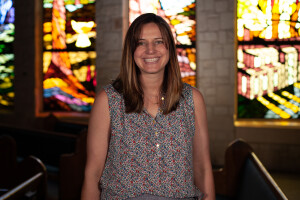 Rev. Sarah Dennis
Director of Student Ministry
E-Mail:

Katie Rogenthien
Student Ministry Outreach & Volunteer Coordinator
E-Mail: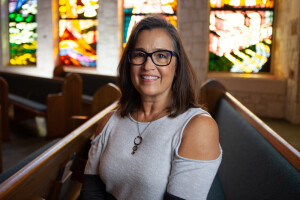 Cathe Skinner
North Campus Ministries Coordinator
E-Mail:

Kim Terrill
Asst. Director of Student Ministry (Middle School focus)
E-Mail: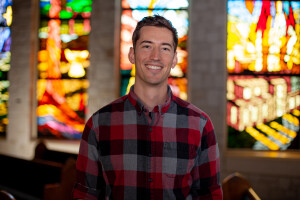 Rev. Parker Zimmerman
Pastor North Campus Ministries
E-Mail: