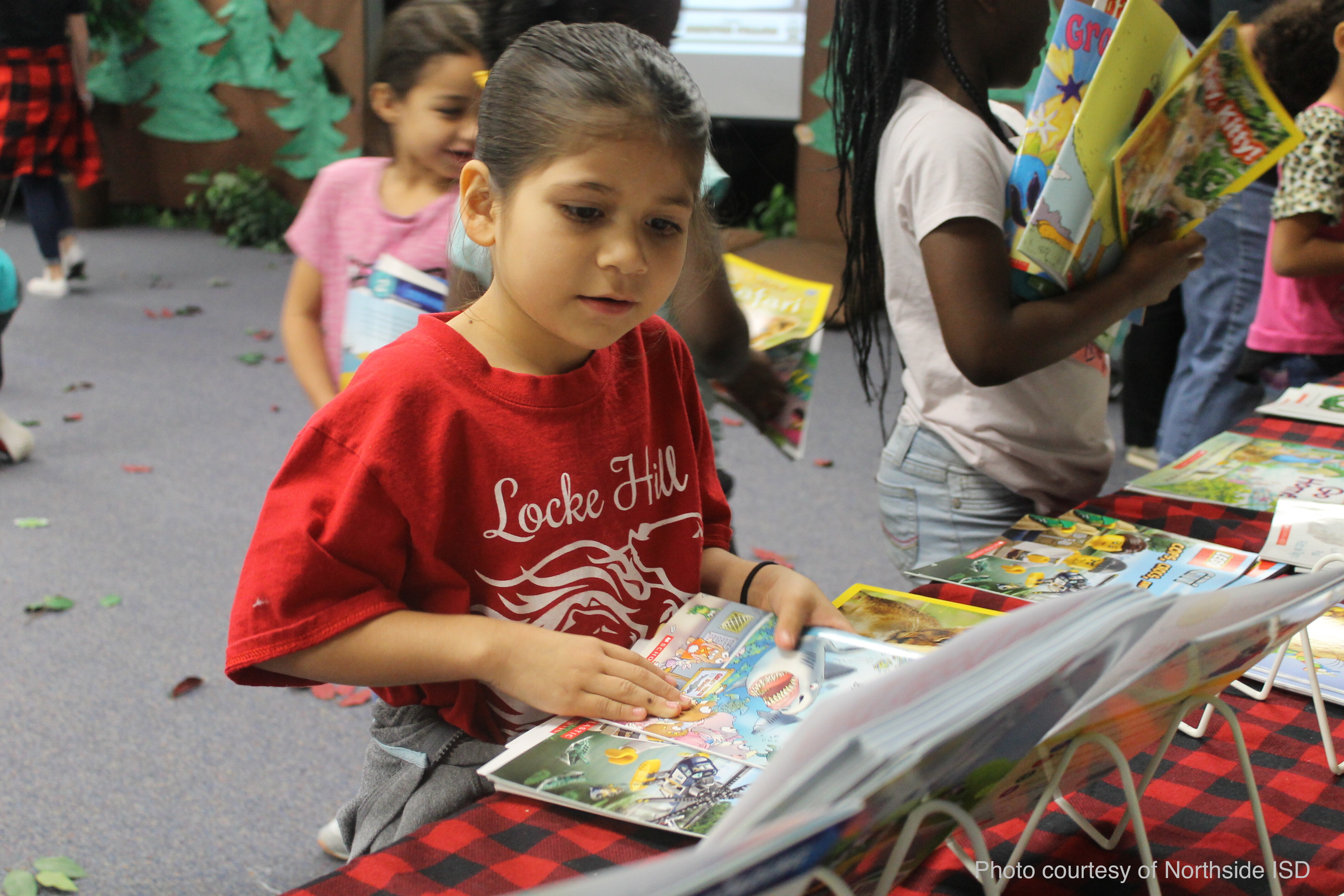 They tiptoed in the dark, leaves rustling below their feet, tall trees surrounding them, and the glow of a campfire drawing them near. Quietly they gathered in a circle around the fire, wondering wide-eyed what would happen next. Rising, their fearless leader told the assembled group, the chosen few, of their special status: their entry into a select camp of summer readers who were about to have the opportunity of their young lives. Gasps echoed across the circle, excitement reached a palpable pitch, mayhem threatened. And just in the nick of time, third grade teacher Ms. Kaitlyn Ackright turned on the book trailer video, and the kids settled in to get a taste of the adventure that awaited them.
This week at Locke Hill Elementary, a team of educators created a veritable forest in the library and took 25 children from each grade level on an expedition to become better readers. And all of this was made possible through the generosity of the people of University United Methodist Church.
Danielle Frei, principal of Locke Hill Elementary, approached Lead Pastor Ben Trammell in March about the possibility of University partnering with Locke Hill to promote literacy in struggling readers, particularly for those students without access to books during the summer months when reading skills typically diminish with each passing day that students do not read. Well-documented research shows that books in homes equates to higher levels of literacy and school success, and these children are our neighbors. We want success for them. So of course University fully funded Locke Hill's new initiative to put 10 books in the hands and homes of 175 children at Locke Hill so that they can practice their reading over the summer.
I wish you could have heard the glee as the children watched the book trailers advertising some of the books that they could choose for themselves. When the children were told that they got to choose not one, not even three, but 10 books, the expressions were priceless. One little boy exclaimed, "What?!?" and a little girl said, "I'm so happy my heart is racing!"
A few at a time, children were invited to the tables of books that lined the wall, and each book on those tables was chosen specifically for that particular grade level to both encourage and challenge these readers to grow. Once each child selected 10 books, often with the help of Literacy Specialist, Stacey Enderlin, or Librarian, Elizabeth Garza, he or she was given a folder with a personalized chart to record progress. These folders also included instructions for parents and reminders of the incentives that children will receive when they return their completed charts in August.
Ms. Ackright told the children that "the church next door bought these books for you so that you can take them home and become better readers." As each grade level tiptoed into the library, the same carefully constructed ambiance achieved, the reactions changed as you might imagine—the fifth graders were reservedly excited; the kindergarteners in full-tilt elation. What didn't change was the gratitude. It was clear that these children understood the unique opportunity given them.
What I love even more is that our church understands the opportunity given to us. What a privilege to call these children neighbors, this school a partner. What a privilege to join Locke Hill educators in the goal of making God's kingdom at this corner of DeZavala a little more ready to be the light in this old world.