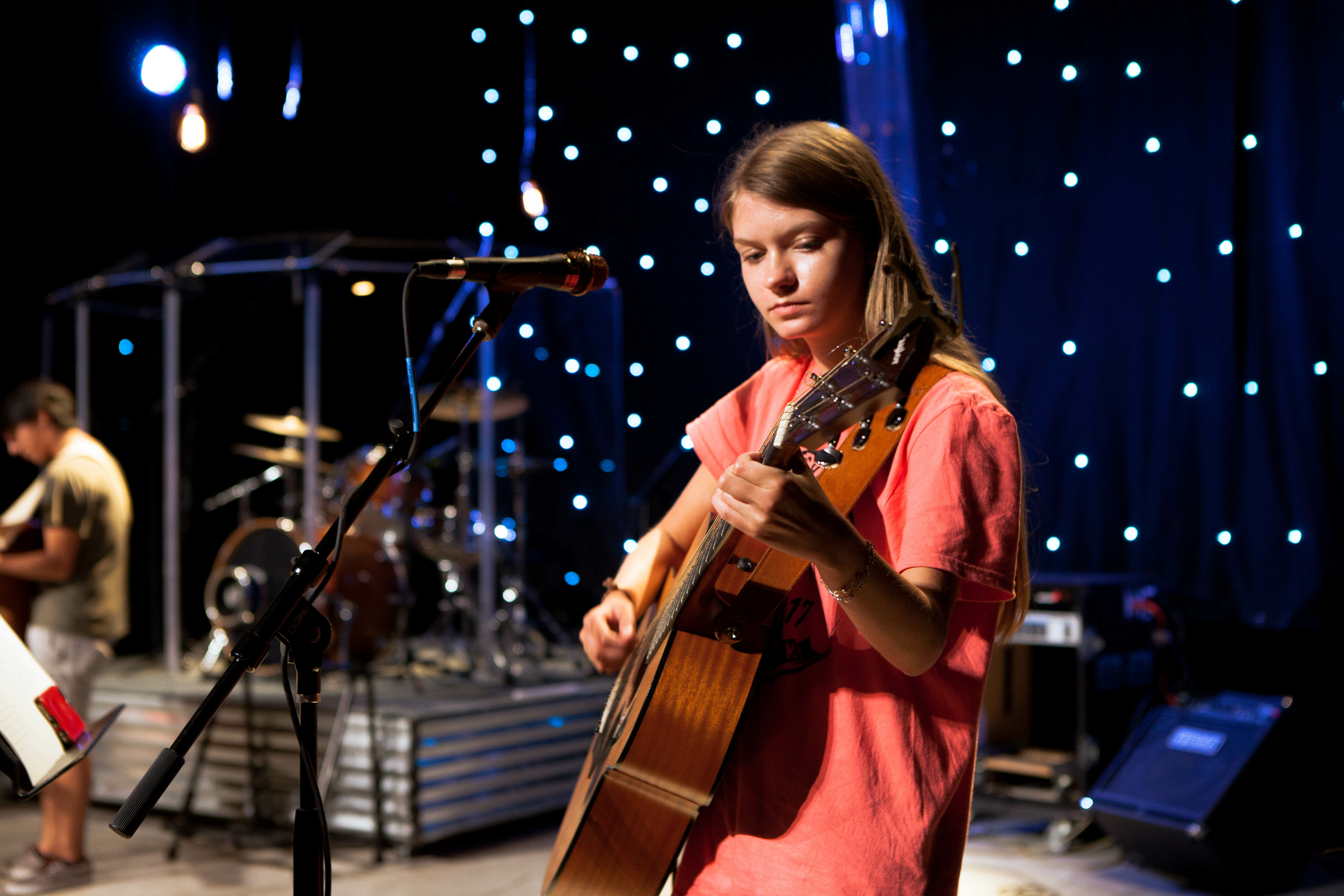 When Katherine Reiley's family moved just before middle school, sending her away from the friends she had known all of her life, she was wholly unprepared for the sadness, the loneliness that sank into her bones. So she did the thing she had always done—she excelled—at everything. She poured her energy into academics, music and sports, making success the thing that fed her spirit, and there was never enough success. The world might have seen a golden child, but on the inside, Katherine felt broken, unfulfilled and a deep longing for more.
Equal parts intelligent and analytical, Katherine set about searching for some answers to the dissatisfaction she felt. Surely there was more to this thing called life than the idol she had made out of accomplishment. Katherine's two older siblings were in school at Texas A&M and part of the massive and massively impactful Bible study and worship service known as Breakaway. At the suggestion of her sister, she started listening to the podcast of Breakaway each week, and through the words of preacher Ben Stuart, she heard about a God who was constantly pursuing her, and for the first time understood her need for God.
"It was the most real thing I have ever experienced."
Curious to know more, and realizing that she desired to be in community with others, Katherine began going to youth group at the Catholic church where her family attended services. One night during a time of intense worship and prayer, as she kneeled in front of the cross, Katherine felt the Holy Spirit flood her senses—"as if she was at the gates of Heaven "—she felt surrounded by His love and peace and joy: "It was the most real thing I have ever experienced." Katherine accepted Christ that night, fully embracing the sacrifice that Jesus had made for her and committing to a relationship with Him.
By the time Katherine entered high school, she had made trusted friends, and in them, found role models of the kind of faith she desired in her life. And she realized something: all of these friends had a church home, a community of fellow believers to grow alongside. And she didn't.
The fall of her tenth grade year found Katherine eagerly anticipating her driver's license. But not for the reasons one might think. Katherine had a plan. As soon as she could drive herself, she would begin visiting potential church homes. She had even made a list of ten to try. The last church on the list, University, turned out to be her first visit because Carly Carrasco, her friend and neighbor, brought her to church during Advent. That very first Sunday, Carly's Resemble group made Katherine feel welcome and loved, and then at worship, Katherine says she knew she was home: "I felt an outpouring of love that clearly came from a rooted relationship with God."
"From that moment I was accepted, welcomed, and loved like I had been a part of University my whole life."
On January 8, now able to drive herself, Katherine heard Pastor Laurinda invite folks to learn more about the church and become members. Katherine felt a push from the Holy Spirit, and all by herself, made her way to the front. "Laurinda brought me on stage and introduced me to the congregation. From that moment I was accepted, welcomed, and loved like I had been a part of University my whole life."
In March, Katherine attended the Connections classes and took vows of membership. The same day she began rehearsing with the Student Ministry Worship band, and music, the thing that was once a kind of idol, she is now using for God's praise and glory.
Instead of dreading the next thing that she has to conquer—she is still an incredibly successful student and leader--she has started looking forward to things, especially Sundays and Wednesdays. Instead of feeling like she once did, that there was no light at the end of the tunnel, she feels "surrounded by light" now.
"Happiness used to depend on successes, but now my joy is unshakeable. I've realized that the greatest success in my life is that of Jesus Christ on the cross. Everything else will always be secondary, but I can do my best to glorify God through any achievements He allows me to experience. God's plans have been far greater than my prayers. I couldn't see how God was working in my life before, but now I know that God is always working in my life."
Do you have a story you would like to share? Email Sharla Bell at