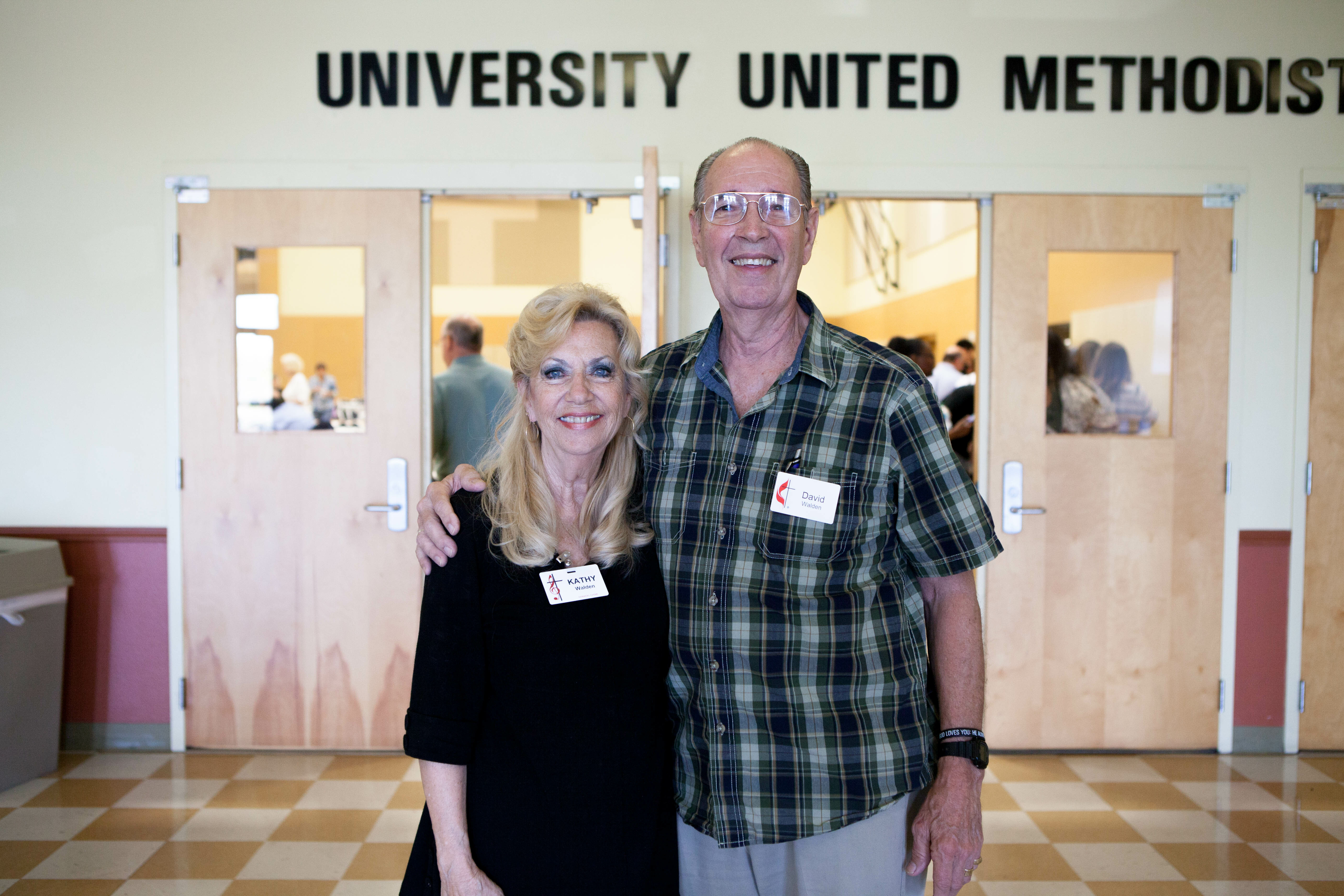 Kathy and David Walden had known each other for most of their lives when 24 years ago Kathy asked David to marry her on national television. While their story is the fantastic stuff of fairytale movies, this couple makes one thing very clear: all the goodness in their life comes from our good Father in heaven. When they married, they committed to reading the Bible in its entirety together every year of their marriage. And while the time of day and the manner in which this gets accomplished has changed over the years, they will have read through the Bible 24 times this June. This immersion in scripture, along with a commitment to discern what God has for them through daily prayer, has fostered a deep desire to serve "the way that Jesus served" and to "love people the way that Jesus loves people."
When Kathy and David took University's Connect-Grow-Serve class to learn more about the church in the spring of 2017, they were taken with the idea that people are "free to serve" at University. There were no membership requirements keeping them from becoming greeters or helping with hospitality on Sunday mornings or singing in the choir. And while they chose to become members of the church and have become involved in the Navigators Sunday school class and University's Chancel Choir, their desire to serve Jesus and others was in place long before they got here.
Kathy met Carl, a man who lives with cerebral palsy and has no family to help take care of him, 33 years ago. To say their meeting was providential is an understatement: an accidental phone call to Kathy from the hospital was followed by a chance meeting on the street a year later. Kathy says it became pretty clear that God was putting Carl in her life because he needed help and God wanted her to help him. So, even though she had two daughters she was single-parenting at the time, Kathy made room in her life to help Carl with doctors appointments, tons of paper work to apply for aid programs, and the friendship he desperately needed. When David and Kathy married nine years later, David began helping to care for Carl as well. It's important to note that the only reason I know about Carl is because we scheduled our conversation around appointments to which the Waldens were taking Carl. I feel certain they wouldn't even have thought to mention the quiet, beautiful way they have been serving this man for so many years.
I first met Kathy and David when they greeted me as I walked into the Wednesday Night at University meal. Out of a desire to get to know more folks at the church, the Waldens asked if they could greet folks as they came into dinner on Wednesday nights. With a genuine warmth that is palpable, these two welcome, shake hands and make people smile for an hour each Wednesday night. Additionally, Kathy has begun volunteering at the Christian Assistance Ministry (CAM) Northwest site, which is housed on our campus. She has loved getting to serve our community in this way.
Most recently, Kathy and David learned that a local assisted living facility did not have any church services on Sunday for the residents, some who deeply desired this kind of faith opportunity each week. After inquiring about other options, Kathy and David felt God pushing them to begin an afternoon time of hymn singing, scripture reading and conversation themselves. At first, they were nervous that they were ill-equipped for this kind of ministry, but they learned quickly that a willing heart and a desire to serve God and others was enough to bridge any gap they might feel. What began with four folks now has as many as 17 at the Sunday afternoon worship time. Kathy explains, "We have learned that when we feel God is telling us to do something, even something we aren't sure we can do, we just need to try. God wants to know if you are willing to serve Him, to obey Him. Just try. There is so much reward in being faithful."
David says that the secret to living a truly joy-filled life is to spell J-O-Y in the way you live your life: J—Jesus first, O-Others next, Y-Yourself last. And given the JOY that emanates from him and Kathy, I think they are on to something.
If you want to know more about serving others in and through University United Methodist Church, please contact Jessica Caccamese, or Steve Ryan, .