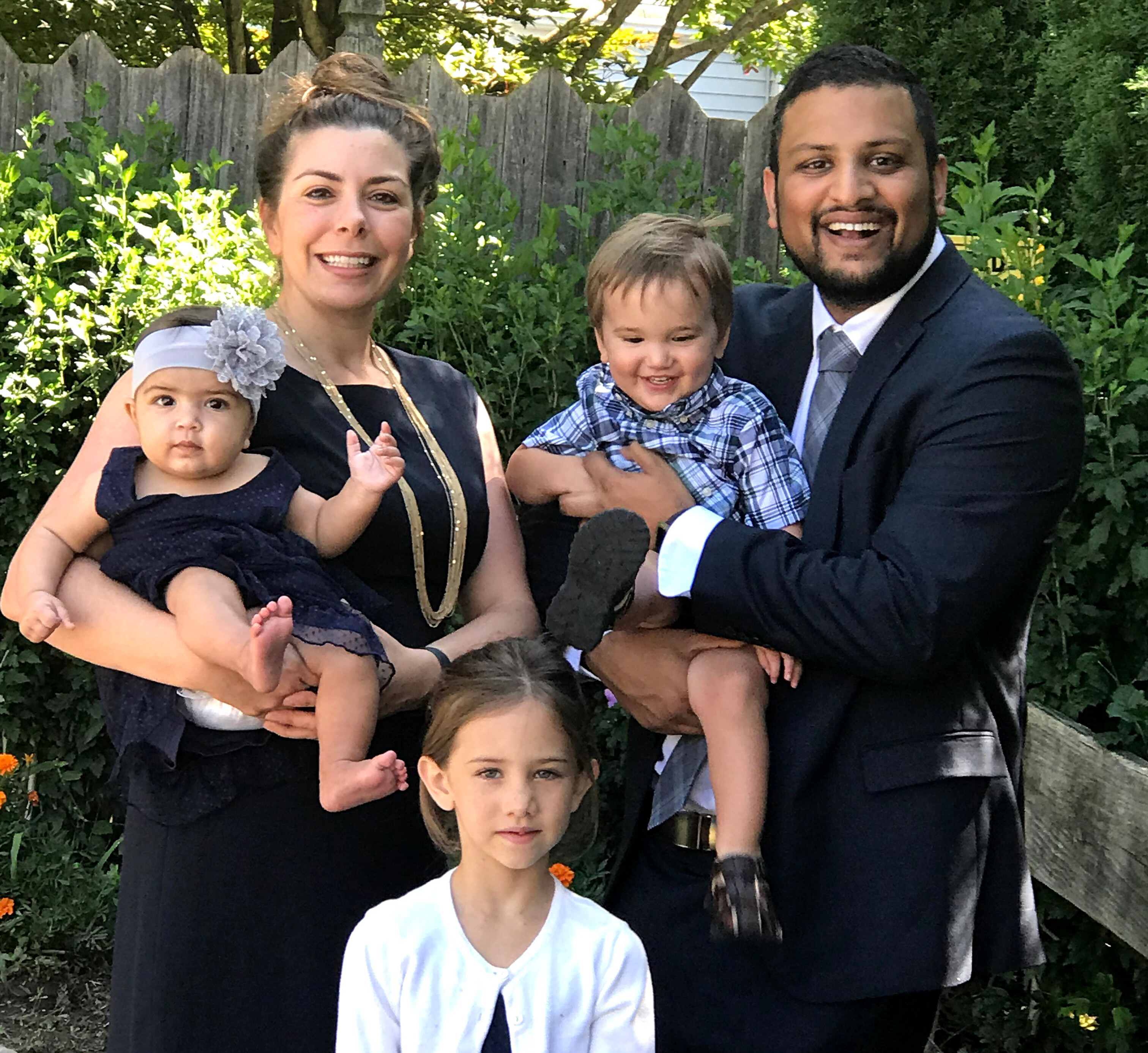 One of the first Sundays that Ashli and Kevin Kurian were in Modern Worship at University, the University Worship Collective led the congregation in singing ​So Will I (100 Billion Times)​ by Hillsong United. The lyrics at the end of the song are this:
I can see Your heart
Eight billion different ways
Every precious one
A child You died to save
If You gave Your life to love them so will I
...
You're the One who never leaves the one behind
When Ashli heard it, the unshaped desire to maybe adopt one day took form: "It really struck me as a call to imitate Christ through fostering." Kevin felt similarly: "Pastor Laurinda gave a message about kids needing homes. After that, it was clear that it was time. There was no spiritual awakening, no break in the clouds--just a simple awareness that God wants kids taken care of, and we had the capacity to do God's work."
To be clear, Ashli and Kevin were many years into following God's call on their lives. They both grew up in families that taught them what it means to follow and serve God. They met pursuing Ph.Ds in Clinical Psychology and M.A.s in Theology at Fuller Theological Seminary. While dating, they had agreed that fostering and adopting might be part of their future. Ashli says that in her mission work in middle and high school, she had always been drawn to orphanages and had long admired "the redemptive work of adoption." This was not a spur of the moment decision, but it was still a leap of faith.
Ashli explains, "I was surprised how overwhelmed and totally panicked I felt the first night our kids were with us. It was a pretty normal night but a few hours before we had never been parents and then all of a sudden we were. We had a 5 year old and a 4 month old, and I felt so insufficient to the task. But our family rallied around us. The Foster/Adopt Sunday school group rallied around us. People brought us meals. People prayed. People in the church that we had never met bought our baby boy a crib. I knew we were not alone, and before long we established a new normal and now could not and would not want to imagine our lives without them. I always try to tell people new to fostering that it is totally normal to have the initial shock and panic because it is a major life change without the 9 months of gradual build up. In a matter of hours, everything changes, but it is wonderful, too."
And they have found their relationship has changed, too. Kevin says: "Though Ashli and I don't have the time we'd always like to have with each other, I rely on her and am more grateful for her than I have ever been." Ashli agrees: "Through the initial panic we stuck together as a team. Also, we were so certain it was God's direction...We knew we were called to be part of their healing. There have been times when it has been very difficult. It is not all sunshine and roses, but that is part of what it means to bear the sin that was done to [our kids]. I think we've learned a lot more about the ongoing nature of redemption. It is not just a single instance. It is a daily transforming, little by little."
Five or six months into fostering their kids, their older daughter was with them in "big church" and the same song played. Ashli was holding her in her arms, crying, as the lyrics that had prompted her heart, the call that had brought this child and her little brother to them, all those months before, played again. Her not-yet daughter put her mouth to Ashli's ear and whispered, "'Mommy, I just asked God for you to adopt me.' At that point the outcome of their case was very much in the air, but I knew God heard that little child and would not leave her behind."
Indeed, the Kurian's adoption of their two precious babes was finalized in August. While fostering, they also birthed a baby girl, and now they are a busy family of five. Ashli and Kevin want folks to know that they "are not super people. We have for sure messed up a lot along the way. But being a grown up who sticks around and loves and tries, who forgives and asks for forgiveness, goes so far. There are so many resources available to support those willing to open their hearts and their homes. For kids that have been neglected, abused and hurt, you can be the one to show them by your life that they are loved, they are chosen, they are precious."
For more information about the Foster and Adopt Sunday school class as well as how to support those who are choosing to foster and adopt, please contact Heather Shealy-Mawhirter, ​ ​.