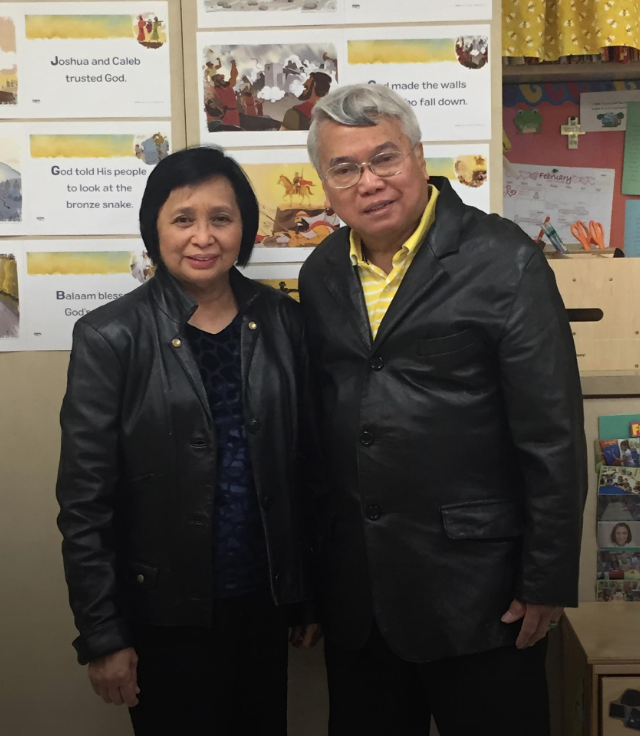 As Mrs. Victoria ever so quietly and humbly celebrates her 50th year teaching, University celebrates both her and her husband with great thankfulness! University is one of the many places that has been immensely blessed by the Victoria's obedience to follow God, to listen, to go, to do. They have served this place and its people well. There are children who have a renewed excitement about Sunday School. There are parents who feel an overwhelming sense of peace leaving children in their care. There are ministry leaders who are ever grateful for their dedication. What a blessing that God led them to these doors 17 years ago!
To understand the depth of how truly called these two people are to this ministry area, one would have to go back to 1971 when Mr and Mrs. Victoria began their journey together after meeting while teaching in the Philippines at the Philippine Normal College, a college where they both taught student teachers. They recall "feeling that something was missing in the profession, a missing dimension." So, they decided to become actively involved in children's ministry, where they helped implement a preschool program at the Central United Methodist Church in Manila. They crafted lessons, scrounged materials and learned to be quite resourceful. According to them, they simply followed in the footsteps of family members before them and continued to spread God's word.
In 2002 they faced a tough decision. Despite wrestling with the reality of leaving their church home in the Philippines, all they were familiar with, and their son, they felt God leading them to come to the United States. They recall that the adjustment was difficult, and if it had not been for relatives in California, Tennessee and here in San Antonio, it could have been altogether impossible. Mr and Mrs. Victoria stayed strong in their faith during this time of transition, and one Sunday morning they found themselves in front of a computer where they typed "United Methodist Church" into Map Quest. God, coupled with the map and their faithfulness to follow, led them to University.
University "felt warm" and they immediately "felt at home" in this place. With their strong passion for children's ministry and having experienced the way that the "missing dimension was filled" through serving, it didn't take them long to seek out Shari Stephens, then director of Children's Ministry, to find out how they could serve. Mrs. Victoria says it's their "very small way of serving the Lord." The very small way in which they use their talents to serve results in very big smiles on children's faces each Sunday.
For 12 years they brought smiles to little 2 year old faces, and now they have moved up to working with 4 year olds. Each week for nine months a year, they not only show up on Sunday, but pray over each lesson, over their children and use their God-given talents to teach about the love of Jesus. From teaching these littlest ones to memorize verses to creating art, they help make the Bible come to life. "The enthusiasm children have when learning about God is contagious," says Mrs. Victoria, and she finds that her own faith grows exponentially as she is blessed by these children.
The Victorias say they have never felt closer to God, and they are grateful that He led them here to University. Their greatest lesson here stemmed from initial fears: "Will there be a language barrier as we try to teach?" Through this experience they are able to claim that, "serving the Lord transcends barriers." I think it's safe to say that our church family has been greatly blessed by their faithfulness to God's plan in their lives. It is their hope that others will find a sense of inspiration and courage to volunteer where they feel led, and will cling to the truth they have learned so well, that serving the Lord can transcend all barriers.