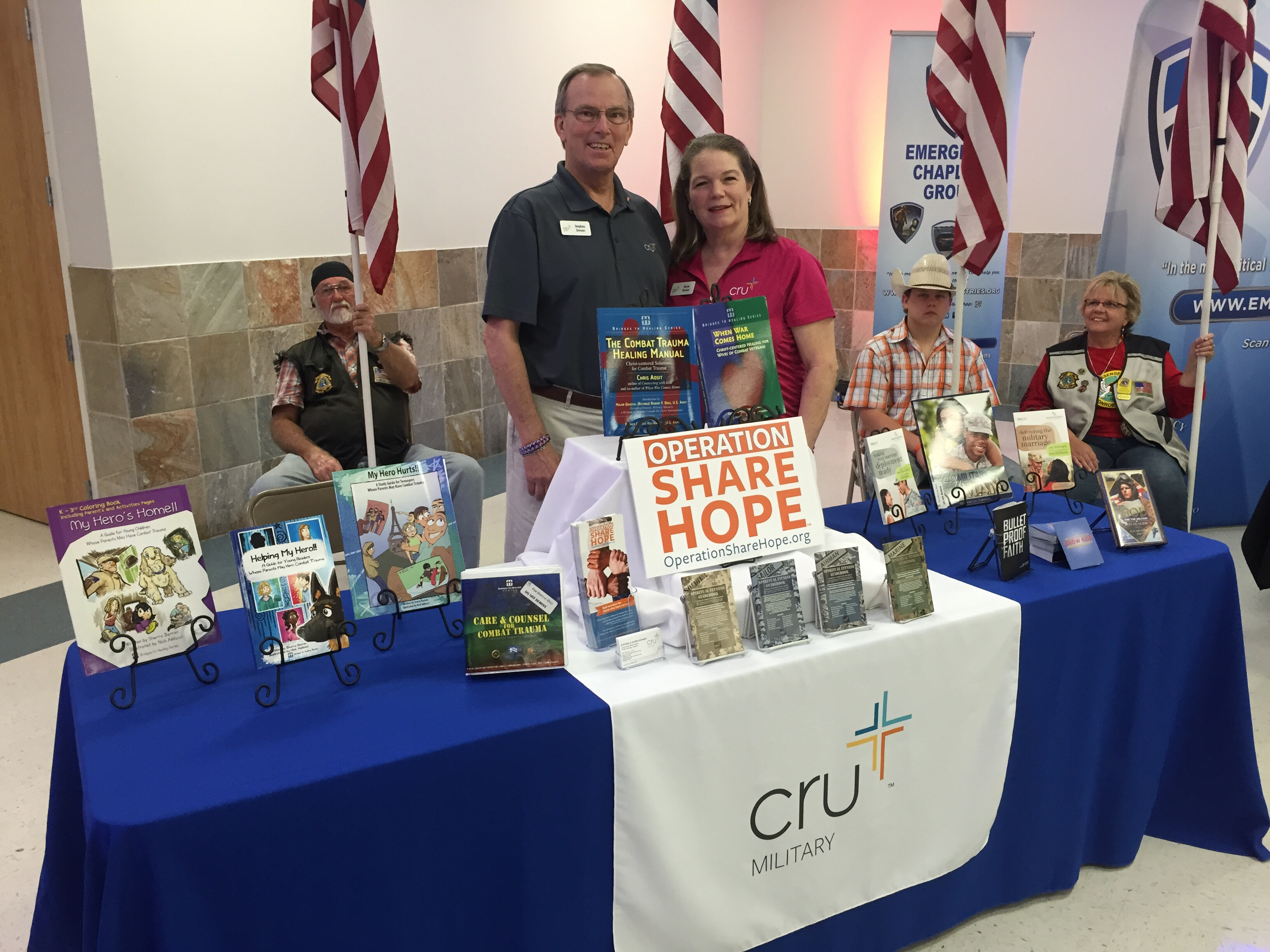 Before they even got married, Karen and Steve Dorner knew that God would call them into full time ministry—that eventually they would hear His voice and answer His call. Almost thirty years later, Steve was still waiting to hear from God. On his way to a sales call in Del Rio, Steve was overcome with emotion and pulled over to the side of the road. There he pled with God, "I want something different, and I want to know by this weekend." That was a Friday morning. On Sunday, in their Sunday school class at University, Steve asked for prayer, that he would have direction for his job, and after class, friends who worked with Priority Associates, an arm of Campus Crusade for Christ, asked Steve and Karen to consider serving with them in this ministry. Steve says that he watched the peace of Christ wash over Karen's face. Within a few months he had quit his job, and they began raising support for full time ministry. They have never looked back.
Two and a half years into joyous service through Priority Associates, at CRU's national gathering of ministry leaders, Steve and Karen ran into a friend from their CRU training days, who invited them to consider moving their service to a different arm of CRU—CRU Military Ministry. Through a sequence of events that involved a change in leadership for their Priority Associates Team, and a clear prompting from the Holy Spirit, Steve and Karen made the change to CRU Military Ministry. Given Steve's service as a combat medic for three years in Vietnam and Karen's 20 years of service on a church staff, it became quickly apparent that this was the work God had outfitted them for long ago: "The fit has been more than we could have imagined," explains Steve.
The statistics are staggering: 22 veterans commit suicide every day.
As Regional Directors, and with teams in Arizona and across Texas, their mission is two-fold: 1.) To help veterans embrace the hope of Christ, especially those suffering from Post-Traumatic Stress Disorder (PTSD), and 2.) To mobilize the Body of Christ to share the hope of Christ with active duty and veterans alike. The statistics are staggering: 22 veterans commit suicide every day. Steve explains, "PTSD is a moral injury, a spiritual wound. To treat this injury with only medical and mental health resources is to miss treating the whole person. We have found that for many, there must be a spiritual component in order to heal."
Karen and Steve accomplish their mission in a variety of ways. Through a program CRU Military created, "Bridges to Healing," they have trained churches to reach the military community in a way that fits with each church's mission and based on each church's DNA. Hoping to extend their reach, their team created an "E-Kit," an online version of the training, so that more churches can benefit. They also encourage and support their teams in Arizona and Texas. In San Antonio, they lead special breakout sessions for military couples at FamilyLife's Weekend to Remember, a marriage retreat that is held in various cities nation wide. And in their capacity as national strategy leaders for CRU Military's PTSD initiatives, they are constantly seeking ways to engage and find help for our veterans suffering from this life-threatening disorder.
It's on this front that the Dorners have recently found the most traction. Two years ago, they were contacted by Carla McDougal of Reflective Life Ministries. A Christian speaker, writer and film producer, Carla was researching a potential film based on a veteran's experience after war and specifically, with PTSD. She had found a CRU resource, Combat Trauma Healing Manual, and was looking for more information and for permission to use this resource in her film. The myriad ways that the Holy Spirit intervened, orchestrated and aligned people and resources to make this project happen is a story longer than the space and time allotted here, but what is clear is that this movie was meant to be made and seen by many. With a plot that primarily follows the aftermath of a soldier's return from Afghanistan and his struggle to reclaim his life and marriage through the healing power of Jesus, the film, We Are Stronger, also weaves the stories of first-responders, burn victims and sexual abuse victims, with the hope of helping those who see the film recognize themselves or someone they love and then take action toward restoration.
As a part of the film, the Stronger Alliance has been formed, linking Christ-centered organizations whose missions are to help those with PTSD as well as their families.
For the Dorners, this movie is simply the catalyst for the work of the Holy Spirit. As a part of the film, the Stronger Alliance has been formed, linking Christ-centered organizations whose missions are to help those with PTSD as well as their families. Their hope is that in every city, after each showing of this movie, there are counselors and representatives from these churches and organizations on hand to talk with folks, directing them to support groups and a variety of class options at local churches.
This massive effort has required coordination and cooperation amongst many Christian leaders, and the Dorners are at the front lines. In San Antonio, for example, the Dorners have coordinated Oak Hills Church, Community Bible Church, Coker UMC, Northern Hills UMC, Shepherd of the Hills Lutheran Church, Our Lady of Perpetual Help Catholic Church, University UMC and others to respond in a variety of ways to the folks who will see the movie. Karen says, "Our goal has been to build a network of care for those who seek help in response to the movie." At University, we will offer a 12-week course called Reboot Combat Recovery, a course for both military personnel and their spouses. This class will be part of our Wednesday Night at University offerings so that both a meal and childcare are available along with the class.
The Dorners first goal, though, is to get folks into the seats at Santikos Silverado 16 from January 26-February 8. There are two hopes for folks who see the film: 1.) To raise awareness in the warrior that there is a need to heal. 2.) To raise awareness in the church that there is a need to respond to and serve veterans.
To find out more about the movie and specific information about showings in San Antonio and various cities, visit StrongerMovie.Com. To connect with Karen and Steve Dorner to find out more about their ministry, email them at and . To learn more about the Reboot Combat Recovery course being offered at University, contact Sarah Reiter, Director of Care and Community, .